One thing I've heard repeatedly over the years from people I've interacted with is that they want to become less sensitive.
That usually means less sensitive to the opinions and behaviors of others.
People who are drawn to reality creation ideas are often quite naturally sensitive to their own thoughts and feelings, which is why they managed to get this far by themselves.
More...
(Even these days, a genuine understanding of Law of Attraction principles is relatively rare amongst humanity as a whole).
But that same sensitivity which helped them stand out from the crowd can also end up with them being emotionally drowned by the "insensitive" masses around them.
But I want to suggest a different way of looking at things.
You see, I don't think it's an issue of sensitivity - that's a gift, you don't want to get rid of that 🙂
Something's burning
Abraham have this great analogy about sensitivity...if you place your hands on a burning stove and your skin is starting to smolder and burn before your eyes, the key is not to make yourself less sensitive so you won't feel the pain, the key is to remove your hands from the stove!
I used to suffer from this too and, for me, it came down to caring too much what others thought of me and needing the approval of others...that was the real stove-burning issue for me, not my sensitivity.
It's a really fine line to walk though for someone who genuinely wants to be of service to others. If you ignore others completely then you're out of touch with where they are and you can't help them.
But if you get too involved with what they're thinking (and that includes what they think about you), you can get drawn into their personal dramas and that's not good for you either.
So what's the answer?
Practice 🙂
It's a bit like the way firefighters enter burning buildings. If a building is on fire and you need to enter it, you keep your weight on your back foot as you gradually move forwards into the building. And when you take your next step, you then transfer your weight onto your back foot again (which was previously your front foot).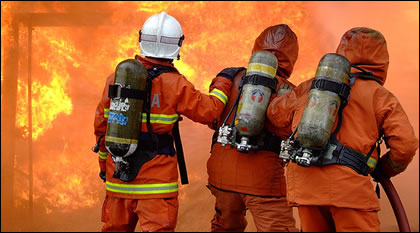 Why do firefighters do this?
It's because if the floor collapses in front of them, perhaps because of a weak floorboard, they won't fall in with it...they are always keeping themselves stable (with their weight on the back foot) and only edging forwards when it feels stable to do so. As soon as the next step feels unstable, they don't go any further forwards and might immediately step backwards to avoid trouble.
I think that's a useful analogy to apply with this idea of sensitivity.
Use the gift of your sensitivity to tell you quickly that you're about to step onto something unstable and allow yourself to pull back straightaway when it feels uncomfortable.
After a while, you should naturally find yourself building more and more confidence regarding "dipping" into unstable areas and still being able to withdraw quickly to prevent yourself getting drawn in.
Sure, sometimes you'll fall into that "burning building" issue with other people but, from that, you'll learn how to stabilize yourself better the next time. You'll start to feel within yourself how safe it is to proceed further.
And, in time, I believe you'll end up developing that rare social skill of being someone who is still sensitive and caring but is still also sure-footed enough within themselves to remain stable whatever the circumstances.